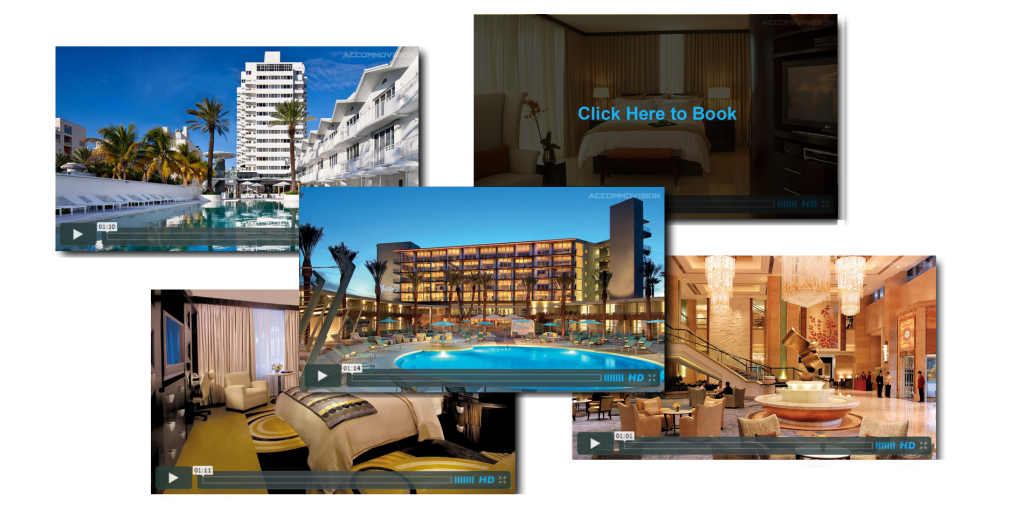 Today's tech-savvy consumers are looking for as much information as possible to make an informed booking decision before their arrival. A suite of videos on your website provides valuable rich media content to positively influence their decision. Our high-definition videos dramatically boost online customer engagement by providing a wealth of captivating visual information in a very short time. Each video closes with a direct link to your booking page, inviting customers to make a reservation at the moment they are most enthusiastic about your hotel. Our affordable video packages make it easier than ever to maximize your online marketing potential with breathtaking full-motion imagery!
HOTEL OVERVIEW
Average Length – 2 minutes
Showcase your hotel's signature style with a bespoke overview video. These videos are produced in an artistic, "storytelling" style; highlighting the very best of your amenities. As your flagship video, it features prominently on your website. Alluring full-motion imagery encourages prospective guests to choose your hotel by evoking a strong emotional response.

ROOM TOURS
Average Length – 1 minute
These brief, informative video tours enable you to provide prospective guests with a detailed visual walkthrough of each type of accommodation your hotel offers. Our cutting edge filming techniques ensure that each room type is presented in an accurate, yet highly appealing fashion. This helps to answer many of the questions an online customer may have about the rooms while providing them with the peace of mind they need to book with confidence.

EVENT SPACE OVERVIEW
Average Length – 2 minutes
The perfect tool for supercharging your group sales! Not every event planner can do an onsite inspection before booking. Now you can simply email a video link to your prospects, showing off your event spaces in their best light. These videos are designed to effectively communicate your location's wedding, meeting, and convention hosting capabilities by creatively displaying your event spaces in every possible configuration.

RESTAURANT OVERVIEW
Average Length – 2 minutes
Bring your restaurant to life with a detailed online review! Show the world what makes your restaurant stand out with chef profiles, behind-the-scenes kitchen footage, and enticing shots of gourmet fare. These videos are the ideal method for raising your restaurant's notoriety and increasing Food & Beverage revenue!

VIGNETTE
Average Length – 1 minute 30 seconds
Do you want to boost your social media presence? Do you have a unique amenity that distinguishes your hotel from all others? Is there a special event you would like to promote with video? Allow us to create a video that is tailor-made to match your exact needs. Our discreet filming style enables us to capture the beauty of any event without disturbing your guests. Nothing is beyond our reach!